In The Art and Culture of Cuba, students will study significant monuments, museum collections, and other cultural sites in the city of Havana and in Central Cuba. Participants will be able to individualize their learning experiences by creating a photo/moving-image/sound/visual diary with drawing and collage, which will culminate in related but different final projects.
The application window for the Winter 2019 program has closed.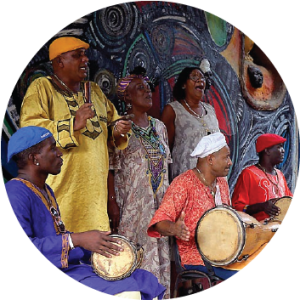 Course Description
As the course progresses, students will immerse themselves in the city of Havana and environs; they will visit neighborhoods of cultural and historic import, view renowned examples of architecture, study works of art that are housed in its collections, and attend music and dance performances. Several excursions are planned from Havana, including the historic city of Santa Clara in the province of Villa Clara (home of Finca La Coincidencia, Ediciones Vigia and the Che Memorial, Santa: the mausoleum which houses the remains of Che Guevara).
The class will create a visual diary and choose between drawing and collage, photography, or video and sound to express ideas visually. No experience in art-making is necessary. They will become skilled in techniques of drawing or digital photography, sound recording, and basic video, as well as the process of creating a visual story. Back at TCNJ, the students will show their art in an exhibition in the student gallery.
The Art and Culture of Cuba is part of the Landmarks series of study abroad programs sponsored by the TCNJ School of the Arts and Communication and the TCNJ Center for Global Engagement.
Program Information
Course: AAH 260: Landmarks: The Art and Culture of Cuba
Liberal Learning: Literary, Visual, & Performing Arts; Global
Dates: January 7 – January 20, 2019
Program Directors: Elizabeth Mackie, Professor of Art, & Dr. Lois Fichner-Rathus, Professor of Art and Art History
Eligibility: No prerequisites and no language requirements. Open to all students in good standing (including current first-year students).
Program Fee: $5,701.88. See Budget Sheet and explore scholarship opportunities.
---
Highlights
Walking tour of old Havana
Salsa lessons and dancing/clubbing excursions
Visit KCHO's Laboratorio del Arte and Instituto Superior de Arte
Presentation at Riera Studio
Lecture at Wilfredo Lam Center of Contemporary Art
Explore Callejon de Hamel and Fabrica de Arte
Taller Grafica and Camera Obscura art installations
Tropicana nightclub performance
Overnight excursion to Santa Clara, including Finca La Coincidencia, Ediciones Vigia, and Che Memorial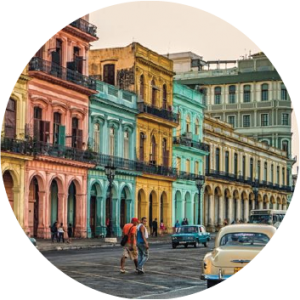 ---
Questions?
Please contact the TCNJ Center for Global Engagement at cge@tcnj.edu, 609-771-2596.
For course specific questions, please contact Professor Elizabeth Mackie at mackie@tcnj.edu or Dr. Lois Fichner-Rathus at loisfr@tcnj.edu.
Please review our refund, cancellation, and withdrawal policy statement should a student not be able to participate in the program.