Patient populations in Haiti can truly benefit from as nursing students because of their well-rounded clinical experience and knowledge. Participants will have the opportunity to change lives and improve their knowledge of global health in a developing country. This reflection will enhance cultural knowledge, improve clinical and assessment skills, give momentum to development as a humanitarian on the front lines, and prepare students for a new roles as health care providers.
Course Description
TCNJ will be partnering with Explorers Sans Frontieres (ESF) on this program. ESF's mission in Haiti will afford the opportunity for students to provide direct public health services to an underserved community. Students will learn to diagnose extreme health disparities in all populations across the lifespan, develop a treatment plan in a resource-limited environment, and educate the Haitian community regarding chronic and acute health issues. They will be immersed within a very unique culture and live within the community they serve. Participants will complete this program having gained practical experience and a new perspective on the role of a health care provider globally.
Program Information
Course: NUR 301 / PBH 301: Perspectives in Global Public Health
Liberal Learning: Global and World Views & Ways of Knowing
Dates: TBD, Winter 2019 (Program will run about 1 week)
Program Directors: In Haiti: Constance Kartoz, Assistant Professor of Nursing, & Carolina Borges, Assistant Professor of Public Health. At TCNJ: Sharon Byrne, Associate Professor of Nursing
Eligibility: Open to upperclass Nursing, Health, & Exercise Science, and/or Public Health majors
Program Fee: TBD. (Winter 2018 Fee was $4,403.87, including round-trip airfare). In the meanwhile, explore scholarship opportunities.
---
Highlights
General wellness and educational training for local Haitian volunteers clinic in Port-au-Prince at Haitian American Caucus
School health exams for children at Escole Shalom Elementary school
Services to the local orphanage in Port-au-Prince/Delmas
Visit to cultural sites in Port-au-Prince with an optional evening farewell dinner in Petionville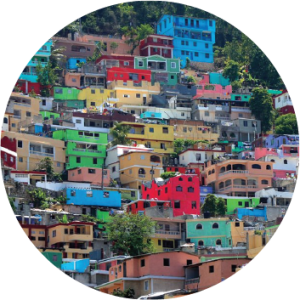 ---
Questions?
Please contact the TCNJ Center for Global Engagement at cge@tcnj.edu, 609-771-2596.
For course specific questions, please contact Constance Kartoz at kartoz@tcnj.edu or Carolina Borges at borgesc@tcnj.edu.
Please review our refund, cancellation, and withdrawal policy statement should a student not be able to participate in the program.