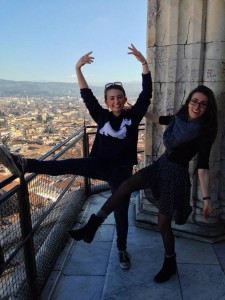 More students than ever before have made the decision to include a study abroad experience into their undergraduate careers. Yet less than 10% of American undergraduates actually study abroad each year, so some parents may not have had any experience with the concept of earning credits overseas. Closer to 30% of TCNJ undergraduates study, intern, teach, or volunteer overseas, which still means that over two thirds of our students choose not to study abroad.
This page has been developed to help parents appreciate what "study abroad" means and how TCNJ supports students through the process. Education abroad programs help students prepare for the 21st century global marketplace, graduate and professional schools, and community life at home. Learning takes place inside and outside the classroom, and TCNJ programs have been designed to help students capture those lessons and use them in their academic careers and their personal lives.
What is "Education Abroad?"
We use the term "Education Abroad" to describe a variety of credit-bearing learning activities: study abroad, intern abroad, research abroad, and service abroad. We also help students seeking work opportunities abroad as well as volunteer programs, and we support the TCNJ School of Education's Global Student Teaching program for education majors who would like to do part of their student teaching semester at an international school in another country. Our main focus is the integration of international academic experiences into students' degree programs at TCNJ.
All of our credit-bearing programs may be found in our online program directory. Students are automatically registered to use this directory, which also serves as a platform for our online application system. They simply need to log in using their PAWS username and password through our MyTCNJ portal.
What types of programs exist?
Looking at "study abroad," there are five types of summer, semester, or year-long programs.
Many of the programs – in all categories – offer combinations of traditional coursework, internships, and service-learning (or volunteer) opportunities. Students should not expect to receive paid internship offers during their time abroad. As time goes on, programs are becoming more diversified, and it is to the students' advantage to ask about what opportunities might exist at their intended destinations.
All programs listed in the online program directory have been evaluated by the Center for Global Engagement and approved for credit by the Global Engagement Program Council (GEPC), part of the TCNJ governance system. The GEPC has eight faculty members, two staff members, and four student members.
1. Exchange – a student from TCNJ pays TCNJ tuition and travels to a partner university, and a student from TCNJ's partner pays their local tuition and travels to TCNJ to study for a semester or a year. Here is a list of our current exchange partners:
Several more universities will be added to this list over the next year.
2. TCNJ-Sponsored Semester and Summer Programs – TCNJ has created a number of programs in various countries that allow students to pay TCNJ tuition and fees (and sometimes housing, and in several cases board as well) and use their entire financial aid packages. Here are the current TCNJ-sponsored programs:
3. Direct – TCNJ has a one-way relationship with an international university, with TCNJ sending student to the university overseas. The student pays the fees of the international university. No TCNJ tuition is charged.
Here is a list of our current direct program partners:
Austria: Salzburg College

Egypt: American University of Cairo

England: University of Oxford (through Oxford Study Abroad Program)

France: American Business School of Paris

Israel: Ben-Gurion University of the Negev, Be'er-Sheva

Italy: Universita per Stranieri di Siena

Japan: Genki JACS Language Institute, Fukuoka

Japan: KCP Language Institute, Tokyo

Multiple Locations: School for Field Studies
4. Study Abroad Provider – TCNJ works together with a number of organizations and companies to place its students in quality study abroad programs, most of which are based on the campuses of international universities. The provider often has a resident director and/or staff to address the needs of TCNJ students in the program. The provider sets the fees for the program, and students pay the provider directly. No TCNJ tuition is charged.
Our current list of providers:
Alliance for Global Education (China and India)

American Councils/ACTR (Russia and Eurasia)

CAPA

CIEE

CIS Abroad

IFSA-Butler

ISA

SIT
5. TCNJ Faculty-Led, Short-Term Study Abroad – TCNJ faculty members lead students on study abroad programs in the Winter, Maymester, and Summer sessions. These are regular TCNJ courses taught for TCNJ credit, but they allow faculty to teach their courses in an overseas setting. The slate of courses change annually.
The Advising Process
The Center for Global Engagement is an office of the Academic Affairs division of TCNJ. We work closely with TCNJ's faculty and administration to help students identify appropriate programs that help them meet academic and personal development goals. Students may find us at an informational event, class presentation, or perhaps through a faculty member's referral.
We have developed a series of group advising and enrichment sessions that guides students through the study abroad process from initial interest through pre-departure and eventual return to campus:
In a typical advising appointment, we ask students about their academic and career plans, goals for a study abroad experience, and their desired destination(s). Frankly, we also ask them if they are aware of their financial aid and scholarship status (and we show them how to find that information on PAWS if they don't know).
At the end of the advising appointments, we ask students to review various programs, speak with their academic advisors, consult with their parents (or whomever might be assisting them with their program payments), and consider various scholarship programs for which they might be eligible.
We strongly encourage students to start planning for Study Abroad as early as possible, to allow them the time to align their time abroad with academic opportunities and adequate financial resources.
The Center's Graduate Assistant coordinates the application process, most of which occurs online. Students need to apply simultaneously to TCNJ (for permission to study abroad) and to their desired program. At times there will be paper forms to complete, but most of the process may be managed online. As part of their applciations, most students will submit a list of courses that have been approved by the faculty – these lists determine just how the coursework completed abroad will be used by the student to complete graduation requirements.
There is a $425 study abroad fee that is part of the TCNJ application process. Note: Students participating in TCNJ facutly-led programs abroad pay only a $150 fee, but they also pay a reduced rate of tuition/fees for the course taught abroad. Selected providers require an additional application fee, but often we are able to have that fee waived for TCNJ students. ISA is an exception – all students in ISA programs must submit a $200 deposit (toward the ISA program fee) in addition to the $425 study abroad fee.
Within one month of the submission of these applications, students will be notified if they've been accepted into the program. Upon acceptance, students will work closely with the CGE on pre-departure activities, including preparations for the payment of their program fees.
Study Abroad Billing
IF your son or daughter has chosen a TCNJ-sponsored semester program, a TCNJ exchange program, or a TCNJ faculty-led study abroad program in Winter, Maymester, or Summer sessions, your child will be billed at the same time as students attending TCNJ on campus during those terms. Exchange students will be billed for room and possibly board by their host institutions. Advantages to students choosing these TCNJ study abroad programs:
They will be able to use Sallie Mae payment plans to pay for study abroad in installments.
Each student's financial aid and scholarship package will be maintained intact for the study abroad term of study.
Students may take out tuition insurance, as they may normally do while on campus.
IF your daughter or son has chosen a program that is sponsored by another organization or institution, your child will be billed directly by that organization. You may be responsible for a program fee before the disbursement of your child's TCNJ financial aid and scholarship award. This is how we work around the situation:
Students need to work with the Office of Student Financial Assistance to verify their financial aid and scholarship awards for the semester they are planning to study abroad.
Once they verify the award amount, students will then need to pay that part of the program fee that is not covered by their financial aid and scholarships. Note: The timing of these payments depend on the organization, but generally students need to pay their providers around the same time as they would normally pay TCNJ.
After the disbursement of financial aid and scholarships (October for Fall semester, February for spring semester), students then pay their outstanding balance to their providers.
Financial Aid and Scholarships
IF your child has chosen a TCNJ-sponsored semester program, a TCNJ exchange, or a TCNJ faculty-led program, there is no impact on the financial aid and scholarship award.
IF your child has chosen a program from another provider, there are limitations placed upon the use of certain financial aid awards:
Students who receive New Jersey Tuition Aid Grants may not use these monies to pay for programs organized by third-party organizations. They may only use them to pay for TCNJ tuition and fees. Since TCNJ-sponsored semester programs, exchanges, and faculty-led programs abroad charge students TCNJ tuition and fees, NJ-based aid may be used.
Students who received New Jersey EOF grants may not use these monies to pay for programs organized by third-party organizations. (Same rules apply as TAG grants.)
Students may continue to use federal grants and loans as well as institutional scholarships to pay for study abroad.
Resources for Parents of Students who are Studying Abroad
Congratulations to you and your student! We understand that you probably have quite a few questions and concerns. (Please be assured that, if your student has been working with our office, all academic credits are transferable to TCNJ and your student will not be "falling behind," provided that s/he passes his/her courses overseas!) Below you will find several important links and activities to complete before your student departs. Carefully review the following information as well as consult your student's acceptance packet and program provider for individualized guidance on required actions.
The Center for Global Education at UCLA has published a website for parents with a thorough review of available resources to help parents prepare for their student's study abroad adventure.
Some parts of our website will have more importance than others, we are sure. Here are some of the highlights that would probably interest parents a great deal:
CIEE, one of the program providers that TCNJ uses for study abroad programs, provides a nice summary of some things you might consider doing with your student before he/she studies abroad. Please note that we have included the link to their site here for illustrative purposes only (unless your student is studying through CIEE): CIEE Site For Parents
Resources for Parents whose Students are About to Return Home
Review these websites for information about readjustment from a study abroad experience. Welcome students home while taking into consideration that he/she has just returned from a life-altering endeavor: