By way of a multicurricular approach—including guided tours, readings/media materials, lectures, and more—students will have an opportunity to immerse themselves in the formal and informal study of all things LGBTQ in Amsterdam, and the Netherlands and Europe more generally. Reflections on their intercultural learning and experiences will be enhanced by the course assignments, including daily journal entries and reflection paper.
Info Session: Tuesday December 10, 11am in Bliss 145
Application Deadline: February 14
Commitment Fee Deadline: February 21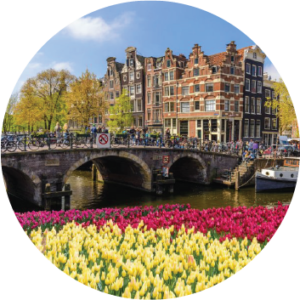 Course Description
LGBTQ Amsterdam is a 2-week summer study abroad course that will be taught in Amsterdam, Netherlands. It serves as an introduction to a broad range of LGBTQ experiences, (sub)cultures and practices, histories, identities, and politics specific to the city of Amsterdam, and more generally, to the Netherlands. Students will gain a broad range of academic, everyday/local, and observational knowledge related to the study of queer life in Amsterdam. Topics, which often include a guided tour component, are wide-ranging in terms of themes surveyed. These include: Guided tour of the Homomonument; the history of the Red Light District that covers lesbian, gay, transgender and sex work topics; the Sex Museum Amsterdam; the Hague and its role in fostering LGBT global human rights; University of Amsterdam's Research Center for Gender and Sexuality and its work in LGBTQ issues; IHLIA LGBT Heritage (formally known as International Homo/Lesbian Information Center and Archive—IHLIA), which curates the largest LGBT collection of Europe (located in the Public Library Amsterdam); among several other themes. Of course, a visit to Amsterdam would not be complete without also touring the Rijksmuseum, the Van Gogh Museum, and the Anne Frank House.
Program Information
Course: WGS 240: LGBTQ Amsterdam

Liberal Learning: Gender; Social Change in Historical Perspectives; Global.
Dates: May 26 – June 7, 2020
Program Director: Dr. Nelson Rodriguez, Associate Professor, Women's, Gender, and Sexuality Studies and Dr. Leigh-Anne Francis, Assistant Professor of Women's, Gender, and Sexuality Studies and African-American Studies
Eligibility: No prerequisites and no language requirements. Open to all students in good academic standing (including current first-year students).
Program Fee: TBA (Summer 2016 fee was $5,414). In the meantime, explore scholarship opportunities.
---
Highlights
Guided boat tour of Amsterdam

Pink Point and the Homomonument

Red Light District

Anne Frank House

Guided tour of The Hague

IHLIA LGBT Heritage

Drag queen tour of tulips and windmills

Rijksmuseum

Guest lecturers

Galerie Mooi Man

Reguliersdwarsstraat (Amsterdam's most famous, trendy and colorful gay street)

Van Gogh Museum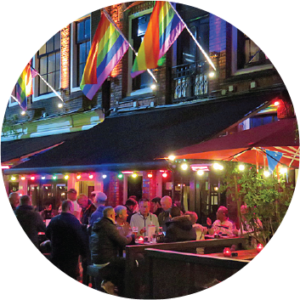 ---
Questions?
Please contact the TCNJ Center for Global Engagement at cge@tcnj.edu, 609-771-2596.
For course specific questions, please contact Dr. Nelson Rodriguez at nrodrigu@tcnj.edu.
Please review our refund, cancellation, and withdrawal policy statement should a student not be able to participate in the program.