Seize this magnificent opportunity to get to know Paris, its most important landmarks and works of art, and the most impressive sights in Normandy! Veteran TCNJ faculty program directors Dr. Lois Fichner-Rathus (author of the popular college art history textbook Understanding Art, now in its 11th edition) and Dr. Lee Ann Riccardi (a specialist in the classical period) will lead students to France and showcase the most important sites of artistic and archaeological significance, from Roman Gaul to the Centre Pompidou of the modern era. There are no pre-requisites for this program—students without any prior background in art or art history are more than welcome to join in the adventure!
The application window for the Summer 2019 program has closed.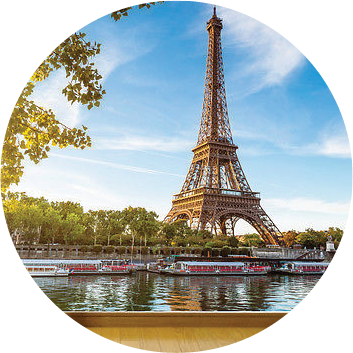 Course Description
Students will study significant monuments, museum collections, and other cultural sites in the city of Paris and Normandy. As the three-week course progresses, students will construct a history of France through its art and culture—a place with ancient Roman beginnings that would, centuries later, emerge as the wellspring of modern thought.
We begin in Paris! Unpack your suitcases, stock your fridge and cupboards, find your favorite café and bakery and your local Metro stop. In other words, settle in and get ready to live like a Parisian  for the first 18 days of the program! After orienting yourself by sailing the Seine on one of the famed Bateaux Parisiens upon arrival, you will begin to explore the French capital and delve into the study of French history, culture, art, and architecture. No classroom for you—all of your looking and learning will be done on site as you visit more than a dozen of the city's most impressive museums, sacred spaces, gardens, and historic monuments. We also have a few horizon-expanding excursions planned, including Versailles, Chartres, the Basilica of Saint-Denis, and Giverny.
Then, bid a fond adieu to Paris and set your sights for northwest France and the raw beauty of the Normandy coast—from its white-chalk cliffs to the World War II beachheads of the infamous D-Day landing. On this leg of your journey, you will travel by motor coach to a region exceptionally rich in history, monuments, and art.
Program Information
Course: AAH 262: Landmarks: The Art and Culture of France
Liberal Learning: Literary, Visual, & Performing Arts; Global
Dates: June 11 – July 3, 2019
Program Directors: Dr. Lee Ann Riccardi, Professor of Art and Art History, & Dr. Lois Fichner-Rathus, Professor of Art and Art History & Classical Studies
Eligibility: No prerequisites and no language requirements. Open to all students in good standing (including current first-year students).
Program Fee: $6,293.88. View Budget Sheet or explore scholarship opportunities.
---
Highlights
In Paris:
Study the art housed within the Musée du Louvre, Musée d'Orsay,Musée de l'Orangerie, and Musée de Cluny
Take in the beautiful Jardin des Tuileries
Tour the Opera Garnier and the Conciergerie
Admire the Cathedral of Notre-Dame de Paris, Saint-Chapelle, and Basilica of the Sacré-Cœur
Experience iconic Parisian sites like the Champs-Elysées, Place du Trocadéro, Latin Quarter, Marais, Moulin Rouge, Montmartre, and of course the Eiffel Tower!
Excursions to Versailles, Chartres, Marseilles, and Saint-Denis
In Normandy:
Explore the areas of Bayeux, Rouen, Caen, and Reims
Visit Mont-Saint-Michel, a UNESCO World Heritage Site
Learn war history on the D-Day beaches and the Normandy American Cemetery and Memorial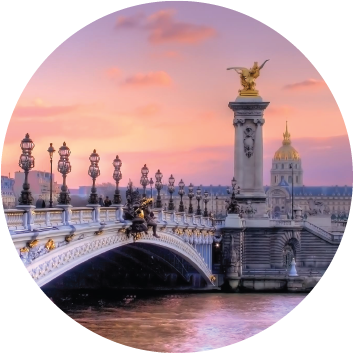 ---
Questions?
Please contact the TCNJ Center for Global Engagement at cge@tcnj.edu, 609-771-2596.
For course specific questions, please contact Dr. Lee Ann Riccardi at riccardi@tcnj.edu or Dr. Lois Fichner-Rathus at loisfr@tcnj.edu.
Please review our refund, cancellation, and withdrawal policy statement should a student not be able to participate in the program.