Power, propaganda, intrigue, and some of western civilization's most famous and enduring monuments: this is the Rome of the Caesars and the Rome of the Popes. This course investigates the relationship between art and the aesthetic, political, social, and religious forces that shaped it during the reigns of the ancient Caesars and the Popes of the Renaissance and Baroque eras. Having much more in common than one might think, these different but related systems of imperial-style rule dominated Rome (literally and symbolically) and, from Rome, influenced large parts of the world.
Rome Schedule
Info Session
Wednesday, February 12 at 4pm (AIMM 104)
Application Deadline: February 14
Commitment Fee Deadline: February 21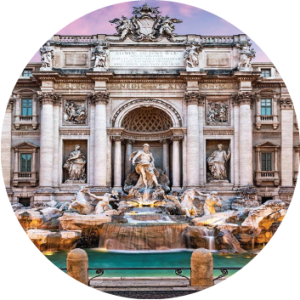 Course Description
Seize the opportunity to live like a Roman for three weeks in an apartment with TCNJ classmates. Explore the neighborhoods, shop the markets, enjoy an afternoon espresso like the natives!
Students will research and view major monuments of architecture, painting, and sculpture on site in the city and in its collections. Themes include formal analysis of works of art, the impact of religious beliefs and practices on art and architecture, patronage, the training and intellectual life of artists, constructions of gender and sexuality, and the interpretation of works of art by examining purpose, meaning and context.
Program Information
Course: AAH 302 / HON 353: Rome of the Caesars, Rome of the Popes
Liberal Learning: Global; Literary, Visual, & Performing Arts
Dates: June 3-24, 2020 (Travel Dates)
Program Directors: Dr. Lee Ann Riccardi, Professor of Art and Art History, and Dr. Lois Fichner-Rathus, Professor of Art and Art History
Eligibility: No prerequisites and no language requirements. Open to all students in good academic standing (including current first-year students).
Program Fee: $6318.20. See Budget Sheet and explore scholarship opportunities.
---
Highlights
Tour galleries and museums – like the Galleria Borghese, Galleria dell'Accademia, and Gallerie degli Uffizi

Visit churches – like Saint Peter's Basilica, Chiesa del Gesù, Basilica di Santa Croce, and Duomo in Florence

Explore iconic ruins – like the Roman Forum, Colosseum, and Pantheon

Imagine historic plazas – like the Imperial Fora, Forum Boarium, and Markets of Trajan

Take in picturesque sights – like the Vatican Gardens, Trevi Foundation, and Boboli Gardens

Enjoy fantastic Italian food – including group dinners and wine tastings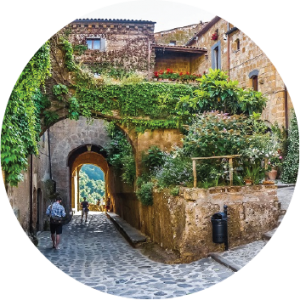 ---
Questions?
Please contact the TCNJ Center for Global Engagement at cge@tcnj.edu, 609-771-2596.
For course specific questions, please contact Dr. Lee Ann Riccardi at riccardi@tcnj.edu or Dr. Lois Fichner-Rathus at loisfr@tcnj.edu.
Please review our refund, cancellation, and withdrawal policy statement should a student not be able to participate in the program.