Power, propaganda, intrigue, and some of western civilization's most famous and enduring monuments: this is the Rome of the Caesars and the Rome of the Popes. This course investigates the relationship between art and the aesthetic, political, social, and religious forces that shaped it during the reigns of the ancient Caesars and the Popes of the Renaissance and Baroque eras. Having much more in common than one might think, these different but related systems of imperial-style rule dominated Rome (literally and symbolically) and, from Rome, influenced large parts of the world.
The application window for Summer 2018 has closed.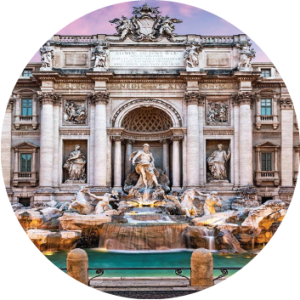 Course Description
Students will visit and have special access to major monuments of architecture, painting, and sculpture on site in the city and in its collections. Themes will include the impact of religious beliefs and practices on art and architecture, patronage, the training and life of artists, constructions of gender and sexuality, and the analysis and interpretation of works of art by examining style, purpose, meaning, and context.
Enjoy the opportunity to live like a Roman for three weeks in an apartment with TCNJ classmates in a beautiful and trendy neighborhood. Shop for groceries, walk to your favorite haunts, and get to know the transportation system like a native. Eat like a Roman: pasta, pizza, and of course, gelato! As in a longer study-abroad experience, you will be able to visit and re-visit the sites of Rome you will come to know and love.
Program Information
Course: AAH 353 / HON 353: Rome of the Caesars, Rome of the Popes
Liberal Learning: Global and Literary, Visual, & Performing Arts
Dates: May 22 – June 12, 2018
Program Directors: Dr. Lee Ann Riccardi, Professor of Art and Art History and Dr. Lois Fichner-Rathus, Professor of Art and Art History
Eligibility: No Pre-Requisites, Language Requirements, or GPA Restrictions – Open to all students (including current first-year students)
Summer 2018 Program Fee: $5,842.08 View Budget Sheet or Explore Scholarship Opportunities
---
Highlights
Roman Coliseum and Forum
Tour of several art museums containing world-renowned masterpieces
Explore the city like a local!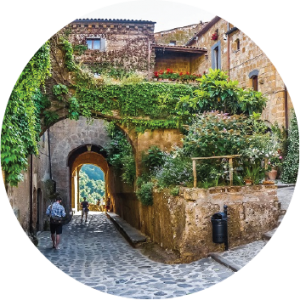 ---
Questions?
Please contact the TCNJ Center for Global Engagement at cge@tcnj.edu, 609-771-2596.
Please review our refund, cancellation, and withdrawal policy statement should a student not be able to participate in the program.