This is a 200-level course that contemplates the question of Spanish identity through the lens of the arts. It is designed for students interested in learning about the customs, politics, history, and traditions of art and architecture in both what we might call "European Spain" and "Islamic Spain," at the same time that we call those distinct categories into question.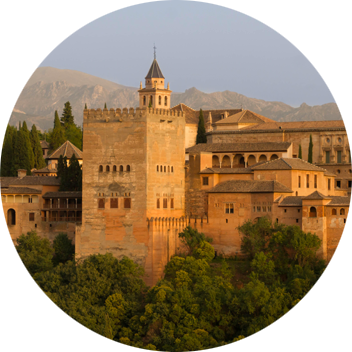 Course Description
The course will focus on three regions of Spain that are often thought of as having distinct cultural identities: Central Spain (Madrid and Toledo), Andalusia (Seville, Cordoba, Granada, Malaga), and Catalonia (Barcelona). In Madrid, for example, connections to Renaissance and Baroque Europe can be seen in the architecture and curatorial choices in the royal collections; in Andalusia, the pre-1492 Muslim and Sephardic Jewish heritage of Spain is evident in the function and style of architecture, as well as the urban landscape; in Barcelona, a distinct Catalonian sensibility—quite literally—colors the art and architecture of the city.
Students will study significant monuments, museum collections, and other cultural sites in these regions and cities as a way of exploring the question of Spanish identity: Do these regions reveal commonalities in their visual culture? How has art and architecture been employed to negotiate and communicate identity? How have older monuments and artworks been appropriated to contribute to newer constructions of identity throughout Spanish history? And, finally, how does Spain's visual culture uphold or break down conventional notions that European and Muslim identities are distinct from one another?
The Art and Culture of Spain is part of the Landmarks series of study abroad programs sponsored by the TCNJ School of the Arts and Communication and the TCNJ Center for Global Engagement.
Program Information
Course: AAH 260 / HON 270 Landmarks: The Art and Culture of Spain
Liberal Learning: Literary, Visual, & Performing Arts and Global
Dates: May 22 – June 11, 2017
Program Directors: Dr. Lois Fichner-Rathus, Professor of Art History and Dr. Deborah Hutton, Associate Professor of Art History
Eligibility: No Pre-Requisites, Language Requirements, or GPA Restrictions – Open to all students (including current first-year students)
Summer 2017 Program Fee: $4,942.88 View Budget Sheet
---
Highlights from the Previous Session
Guided walking tours of Madrid, Segovia, and Toledo
Museo del Prado
Archeological Museum
Museo Nacional Centro de Arte Reina Sofia
Cathedral de Toledo
Museo Sefardí
Iglesia de Santo Tomé
Casa de Pilatos
Royal Alcázar
Seville Cathedral
---
Questions?
Please contact the TCNJ Center for Global Engagement at cge@tcnj.edu, 609-771-2596.
For course specific questions, please contact Dr. Lois Fichner-Rathus at loisfr@tcnj.edu or Dr. Deborah Hutton at dhutton@tcnj.edu.
Please review our refund, cancellation, and withdrawal policy statement should a student not be able to participate in the program.