Explore the heritage of Vietnam and Cambodia. Learn about the countries' textile traditions, art, and recent histories. Discover the varied natural landscapes of Southeast Asia, as well as the environmental concerns facing the region. In looking at efforts to address environmental and economic issues, whether caused by colonial and modern history or by the commercial textile industry, you will learn how the past and present impact the future of both these nations and the world.
Info sessions
TBT
Application Deadline: TBT
Commitment Fee Deadline: TBT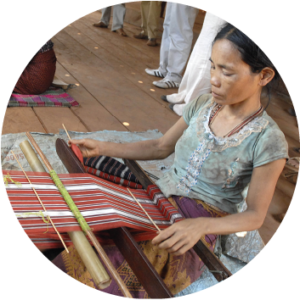 Course Description
This course explores the heritage of Vietnam and Cambodia through the lenses of recent history, textiles, and environmentalism. Participants will learn about the ways in which events of the 19th and 20th centuries affected the two countries' heritages and environments as well the ways in which heritage and artistic production are being harnessed to revitalize identities, the economy, and the environment. Learning experiences include visits to historical sites, world-famous monuments, art galleries and museums, markets, environmentally and socially-conscious enterprises, and protected natural sites. Students also will learn through hands-on activities, such as textile workshops with Hmong-Vietnamese artisans, cooking classes, and community service projects. The culmination of the course will be a collaborative online publication, for which students will produce multimedia articles examining the themes of the course from a variety of perspectives.
Program Information
Course: AAH 370/JPW 370: Textiles, Heritage, and Environmentalism in Southeast Asia
Liberal Learning: AAH 370: Literary, Visual, & Performing Arts; JPW 370: Global.
Dates: May 23-June 9, 2021
Program Directors: Dr. Deborah Hutton, Professor of Art History, and Kathleen Webber, Assistant Professor of Journalism and Professional Writing
Eligibility: No prerequisites and no language requirements. Open to all students in good academic standing (including current first-year students). The AAH course will fulfill the art history major and minor requirement of a non-western art course and 300-level course. The JPW course can count as one of the three elective courses needed for the Journalism major.
Program Fee:TBT  See Budget Sheet, or explore scholarship opportunities.
---
Highlights
Art museums, like the Vietnam Fine Arts Museum
History museums and memorials, like the Tuol Sleng Genocide Museum
Temples and mausoleums, like Angkor Wat
Textile demonstrations and workshops, including weaving, embroidery, and cloth dying
Markets, like the Dong Xuan Market in Hanoi
Swimming/kayaking at the Tien Ong Cave
Homestay lodging and activities local villages
Community service project
Engage with local students, villagers, and artists!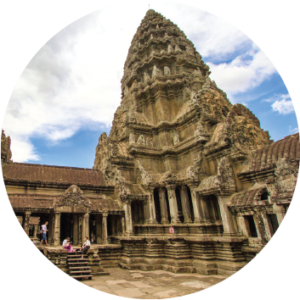 ---
Questions?
Please contact the TCNJ Center for Global Engagement at cge@tcnj.edu, 609-771-2596.
For course specific questions, please contact Professor Hutton at dhutton@tcnj.edu or Professor Webber at webber@tcnj.edu.
Please review our refund, cancellation, and withdrawal policy statement should a student not be able to participate in the program.