TCNJ and The Washington Center for Internships and Academic Seminars have established a partnership that allows TCNJ students to pursue a semester or a summer in Washington, DC, participate in a full-time internship from Monday to Thursday, take an academic class one evening a week, and attend a weekly leadership seminar on Fridays…all for TCNJ credit!
Apply Now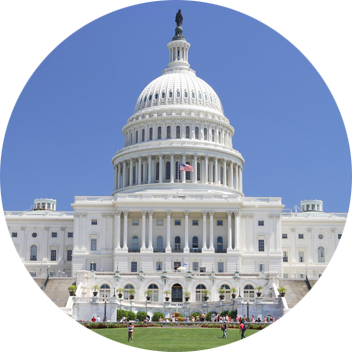 Internship Program Description
The Washington Center program provides students with the chance to work as an almost full time intern, Monday through Thursday, and experience having a career in the professional field of their choosing. Students could be conducting research, attending congressional hearings, developing websites, or even advocating for policy positions. The Washington Center internships are great opportunities to work in our nation's capital and helps students feel more confident in their professional future.
Students are assigned an internship advisor when they are accepted to the program. The advisors will hold an interview with the student, primarily through video chatting, to discuss the student's interests and help determine the best internship experience for them. These experienced staff members will then send out students' resumes and application materials to interested internship sites and will guide students in the internship matching process.
Please be advised: Students applying to The Washington Center program need to complete TCNJ's study abroad application as well as The Washington Center's application.
Program Credits
Students in the program will receive four (4) units of TCNJ credit in the Fall or Spring semesters and three (3) units of credit in the Summer session.
Students will be graded for the internship and the academic class, and these grades will be computed in their TCNJ GPA.
Program Information
Fall or Spring credits: two (2) units of internship credit, one (1) unit for an academic class, and one (1) unit of P/F credit for the LEAD Colloquium leadership seminar.
Summer credits: one (1) unit each of internship credit, academic coursework, and the leadership seminar
---
The LEAD Colloquium Professional Track
What is the LEAD Colloquium?
The Washington Center's LEAD Colloquium is a weekly seminar, held on Fridays, and is transferred to TCNJ as a Pass/Fail credit. The Colloquium is comprised of different professional development presentations and discussions that vary from week to week. Besides meeting with a designated LEAD instructor in a group to discuss professional development skills, students will also participate in a lecture series, a Professional Track experience, Career Boot camp, and Civic Engagement seminars. The LEAD Colloquium helps students become more involved in the D.C. community and boosts their professional development skills.
What is the Professional Track?
The Washington Center's Professional Track is an experience within the LEAD Colloquium. The track is self-selected by the students based on their interests and range from Advocacy, Service and Arts to Politics and Public Policy. The track sessions are held by a specific LEAD instructor who helps facilitate events and engagements that relate to the topic of the selected track.
---
The Evening Course
All students at The Washington Center are required to participate in an evening course, which will count towards one unit of TCNJ academic credit. All courses meet for three hours, one night a week. Students have the opportunity to choose their course from the 25 courses that are offered for the semester or summer programs. These classes are taught by disciplined professors that typically have hands on experience in their field of study. These courses range from "Campaigning for a Cause" to "Scandalous Washington: Uncovering D.C. History."
---
Questions?
Please contact the TCNJ Center for Global Engagement at goglobal@tcnj.edu, 609-771-2596.