Immerse yourself in Peruvian culture through hands-on interaction with its food, art, history, and local populations. Students on this program will compare and contrast the cultural changes of pre-Incan Peru to contemporary Peru and to contemporary America, with special focus on the influence of technology. Program participants will gain intercultural awareness and an appreciation of linguistic, racial, and cultural diversity.
The application window for the Winter 2019 program has closed.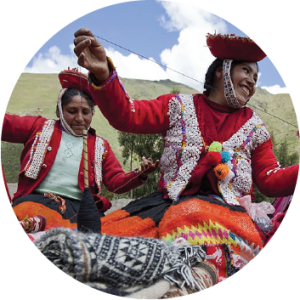 Course Description
Students will enroll in only one of the following courses:
IMM 370: Culture and Technology will examine Peru's history, politics, art, religion, social movements, and more through the lens of concurrent technology. Students will visit historical sites ranging from pre-Incan to Incan to colonial and consider how the technology of the time embodied the practical and spiritual values of the people. Through visits to local businesses, discussions with local entrepreneurs, and lectures from local university faculty, students will gain insight into current uses of and attitudes toward technology unique to modern-day Peru. Students will use a shared blog to reflect on their own American attitudes towards technology and the role of technology in the historical narratives of the United States.
SPA 171: Contemporary Peru is a course that studies both the ancient roots of the Peruvian culture and the modern day multicultural nation. Students will study Incan philosophy, religion, art, and architecture, as well as the modern-day indigenous struggle for dignity in 21st century Peru. Being in Peru and engaging in cultural, historical, and archaeological visits will allow the topic to come alive for students and sharpen their racial, global, and intercultural awareness.
Explore the full program itinerary!
Program Information
Course: IMM 370l: Culture and Technology or SPA 171: Contemporary Peru
Liberal Learning: IMM 370: Behavioral, Social, or Cultural Perspectives; Global. SPA 171: Literary, Visual, & Performing Arts; Global.
Dates: January 2 – 13, 2019
Program Directors: Dr. Ann Warner-Ault, Professor of Spanish, & Dr. Christopher Ault, Professor of Interactive Multimedia
Eligibility: IMM 370: IMM 280 for IMM majors/minors. SPA 171: No prerequisites and no language requirements. Open to all students in good academic standing (including current first-year students).
Program Fee: $5,961.88. See Budget Sheet and explore scholarship opportunities.
---
Highlights
Explore ancient Incan ruins, including the iconic Machu Picchu
Visit traditional Incan house, market, and llama farm
Iglesia de San Francisco and its catacombs, as well as other historic churches and convents
Engage with the Innovation Lab at the University of the Pacific and Innova School's "design-thinking" curriculum
Dine in Lima, the "gastronomical capital" of the Americas
Chocolate-making lesson at the Choco Museum
Tour several art museums
Experience the Center for Traditional Textiles, a textile factory, and weaving demonstrations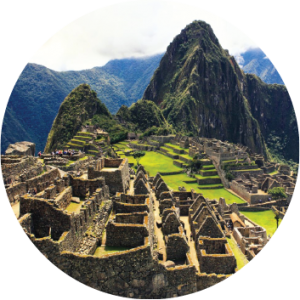 ---
Questions?
Please contact the TCNJ Center for Global Engagement at cge@tcnj.edu, 609-771-2596.
For course specific questions, please contact Dr. Ann Warner-Ault at warner@tcnj.edu or Dr. Christopher Ault at ault@tcnj.edu.
Please review our refund, cancellation, and withdrawal policy statement should a student not be able to participate in the program.