Popular ideas about the nineteenth-century American South typically include wealthy, white male slaveholders who lived on vast plantations with their happy, dutiful slaves. However, these tropes perpetuate myths about the South that do not account for a fuller history of the region. This course will use primary source material, monographs, and field research to create a more accurate understanding of the Old South.
The application window for Summer 2018 has closed.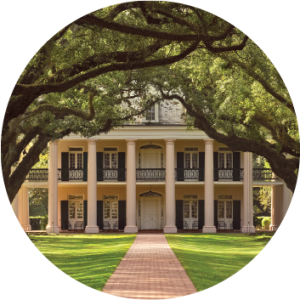 Course Description
By traveling to different slavery and Civil War sites throughout the South including Savannah, GA, Charleston, SC, and Richmond, VA, students will engage with the politics of memory and consider the ways in which these sites use memory, historic preservation, and revisionist history to create new, more palatable histories for its visitors while also reaffirming southern heritage. Throughout this course, students will uncover the larger themes and patterns about nineteenth-century southern society from the early 1800s through the Civil War.
Program Information
Course: HIS 365: Topics in North American and United States History – Gone with the Wind? History and Memory in the American South
Liberal Learning: Race & Ethnicity and Gender
Dates: Summer 2018
Program Directors: Dr. Mekala Audain, Assistant Professor of History, and Dr. Craig Hollander, Assistant Professor of History
Eligibility: No Pre-Requisites, Language Requirements, or GPA Restrictions – Open to all students (including current first-year students)
Summer 2018 Program Cost: $4,747.08 View Budget Sheet or Explore Scholarship Opportunities
---
Highlights
 Wormsloe Historic Site
Middleton Plantation
Petersburg Battlefield
Museum of the Civil War Soldier
Confederate White House & Museum Activities
Monticello
Fort Sumter
The National Museum of African American History and Culture in Washington, DC and other historic sites
---
Questions?
Please contact the TCNJ Center for Global Engagement at cge@tcnj.edu, 609-771-2596.
Please review our refund, cancellation, and withdrawal policy statement should a student not be able to participate in the program.